This past week has been amazing having Drew home, I've been so busy spending time with him and going places that I haven't had time to post my photos but I am taking them every day :-) I had a couple for each day I wanted to post so instead of doing them each individually I made mini collages.
day 45: our old highschool is in the playoffs so we hit up Moss's for a lil pregame cookout, then to the game then off to party and have fun. the photo with Moss and the phone is special cause he's usually the first one gone but he was awake till we left. These are unedited and taken with the P&S

Day 46: Met up with Drew's best friend Chris who he hasn't seen since our wedding, we went to BWW with some people. I wasn't drunk but the photo kind represents the fact we're in a bar and people are drunk or drinking :-P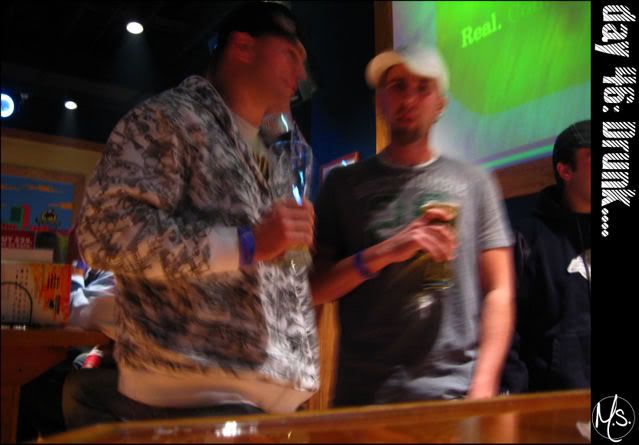 day 47: sunday I woke up early for a photoshoot that I'm sooo excited about editing!! I've never photographed sisters but the girls I photographed are awesome I went to school with both of them. We even snuck in a couple shoot at the end. The orgami money is a tip that one of our cool customers left my friend Beth, I snapped those shots with the P&S the photo of the girls was taken with the 17-85mm lense me almost falling into a creek lol


Day 48: Our 2 year wedding anniversary. I can't believe it's been 2 years already, time flies by too fast. I figured up the other day out of the 2 years we've been married we've been together for about 5-6 months of it (thank you Marine Corps for that, lol) I had class in the morning and he went out shopping, I had already given him his presents Wed. when we went to Natural Bridge but I took a photo of the jacket for this. The photo of him he actually took himself, I got my camera remote out playing around so I focused and set up the apeture and all and he pushed the button :-P All of these were taken with the 60mm and all are straight out of the camera no editing except putting them together into the collage :-)

I talk to my painting teacher tonight about doing independant study next semester so I can move to S.C. if all goes according to plan I'll be coming back to Va like twice a month for classes. Cross your fingers it all goes well cause really I want to graduate but I don't want to be away from Drew any more than I have too!!