I have been wanting to do this forever but the timing wasn't right but now I think it is so here we go.
I love animals, I always have, I had cats and dogs growing up and even took horse back riding classes a couple of summers which was a lot of fun. When my husband and I got married I left my cat Kittyboots with my parents because she was older and set in her ways and a move cross country would have been a huge change for her. I was kinda heartbroken but knew it was for the best.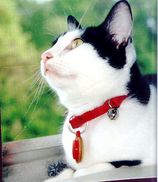 Once we got settled in California and Drew got home I started in about how I needed a new cat to keep me company when he was out in the field for weeks on end, after a couple of months and me taking many trips to the pound looking at all the adorable cats and dogs we finally went to pick out a kitten. We picked out a couple of kittens we liked and when we went to the front desk we found out those had already been adopted, I was kinda heartbroken until my husband asked the lady about the two little kittens behind her in this big cage, turns out they were available, she handed them to us to pick which one we wanted and told us about them coming to the shelter together with some other kittens and how they had been fostered together, we knew then that we couldn't separate them. That was the day Slick and Flossie became a part of our family, our first furbabies.


After we got Slick and Flossie Drew decided he would finally get the pet he'd always wanted, a bearded dragon. He named him Spike which was pretty appropriate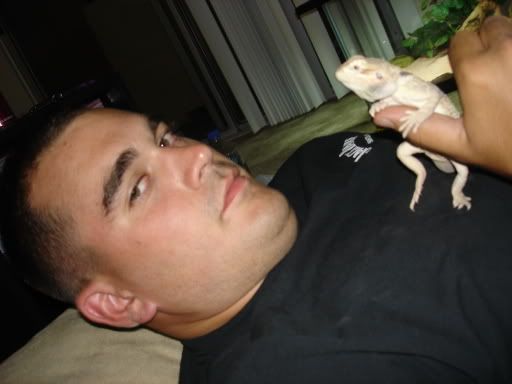 When we PCS'd down here to Parris Island in 2008 Drew started to talk about getting a dog, and not just any dog he wanted and American Pit Bull Terrier. I was determined that was not going to happen, I was pregnant with our first child and didn't think getting a puppy was the best idea in the world little less a viscous pit bull. Then I met Xena, Conan, and Titian Drew's friends dogs and they changed my mind. Xena was getting ready to have a litter of puppies and Drew wanted one, I wanted to meet the dogs that I had been told by the media were viscous. After the first "kiss" I knew there was nothing to be afraid of other than a second bath of kisses. A couple of weeks later the puppies were born and we went to pick out Osceola. He was so tiny then just born and all so we went back a couple of weeks later to make sure he was the one we wanted. I still remember him wagging his tail so hard he was shaking his whole backside.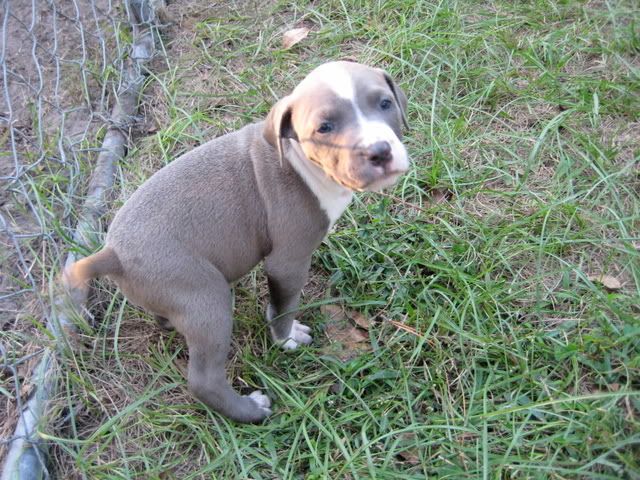 When he was old enough we brought him home. He immediately bonded with Keeley even though she was still in my belly.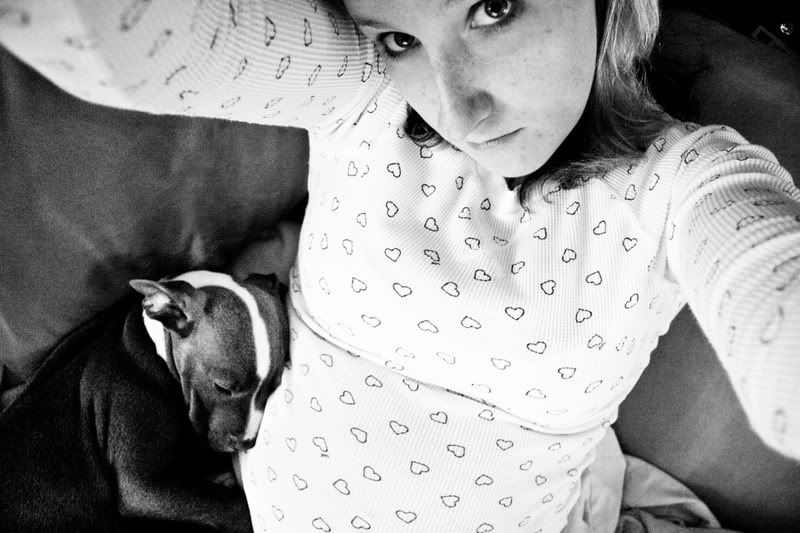 Osceola is a smart mischievous puppy, he learned quick how to open the baby gates we put up to help keep him in the kitchen among other things. When we brought Keeley home from the hospital Osceola would lay beside the pack and play while she slept as if he was keeping guard, he no longer would lay on my stomach like he had when I was pregnant and would want to be where she was. They're best friends, when she became mobile he would lay on the ground and let her crawl to him and pet him, now she chases him around the house.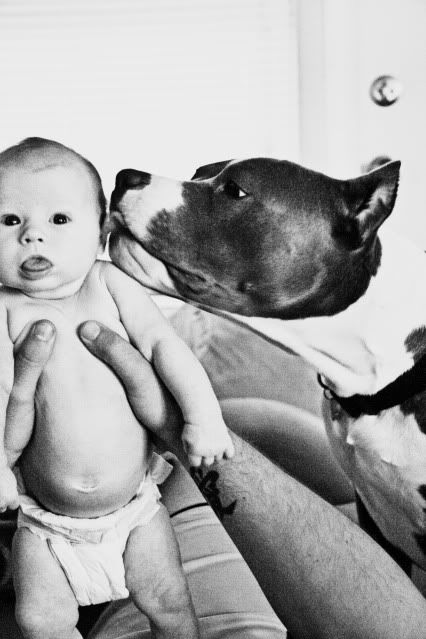 Two weeks after Keeley was born Xena had another litter, when the puppies became more mobile I went to take photos of them to help find good homes for them. This one little puppy stole my heart, he kept following me around and laying at my feet. I went home that afternoon and told Drew about him.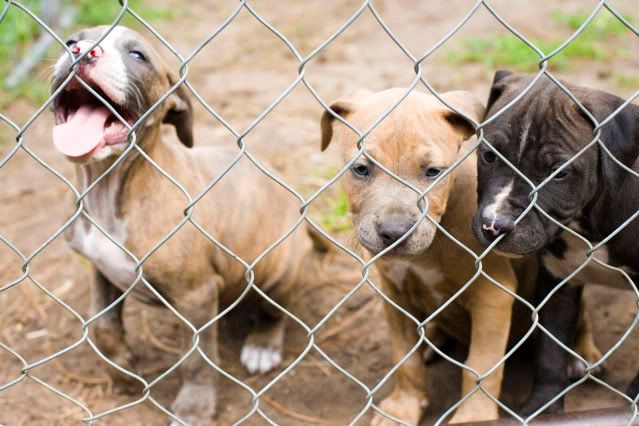 When the puppies were ready to go to their homes Drew came home with a puppy to take to Virginia for his friend and to my surprise the puppy I had told him about. We named him Vader. At first Osceola didn't know what to think of Vader but then they became fast friends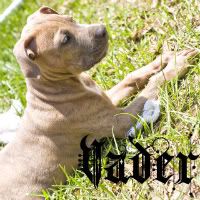 Sadly Spike our bearded dragon past away last year. On a normal day our house is a little chaotic, a toddler getting into everything with the help of her doggie brothers, Flossie laying around being lazy and Slick hanging in with the dogs, it's a really interesting life but I wouldn't have it any other way.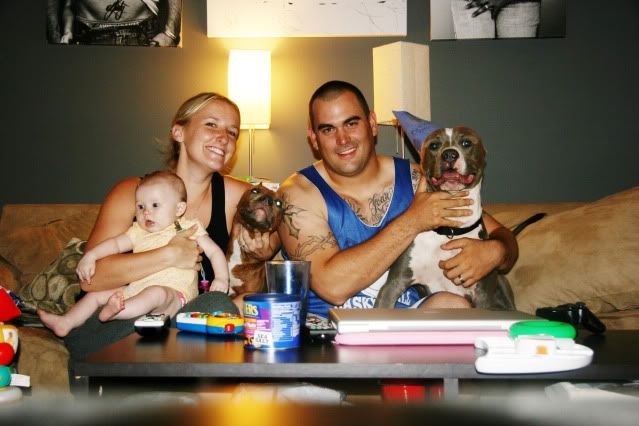 So all of this is where Pictures for Paws comes into play. When Drew first started talking about wanting a pit bull I started to do my research and came across Bad Rap, a non profit organization that helps educate people about the breed and help dogs in need. I started following their blog and learned about the barn they were building to help home dogs, I knew I wanted to help. This past year the Marine Corps are starting to ban pit bulls, rottweilers, and wold hybrid dogs from their housing, to be able to stay on housing we had to get our dogs assessed by the ASPCA to make sure they weren't viscous (which by the way of all the dogs tested only 2 were found to be dangerous). The ASPCA has the commercials on t.v. that every time I see them they make me cry. They do a lot of work to help rescue animals from dangerous situations and get them the help they need.
So this is what Pictures for Paws is doing, any shoot booked between now and August (I might run it longer so this might change) that features your pet, whether it be family photos with your pet or just photos of your pet, I'll donate $25 of the session fee to be split between these organizations. I'll be using my blog to update how the fund raising is doing and the sessions that are helping to raise the money. For this special I'll be adding a package just for pets, it'll be $125 for the CD with 50 fully edited high resolution photos with the rights to print. We can do the photos at your pets favorite spots if you want more of a day in the life of my pet or go somewhere else for the photos. If you don't need photos but want to help check out the links for the organizations and consider donating. Not all pets are as fortunate as ours to be loved but we can help some find homes and be safe. Thanks for reading and helping :)