Remember the real reason for Memorial Day.
Not all heroes come home.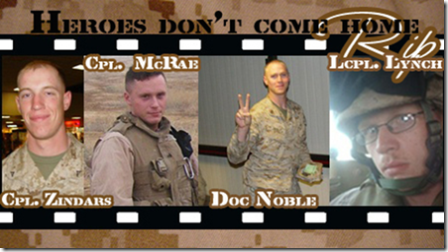 During my husbands third deployment his battery suffered the loss of three amazing Marines and an awesome Corpsman. If you'd like to read about them you can here. I never met any of them but I know they were brave guys. Another Marine was injured that day, someone I did know, and I'm thankful for his sacrifice and I admire his family in all that they do. You can read about Sam and all that he has been to here.
This Memorial Day while you're BBQing and such take a minute to think of the ones that didn't come home and their families because this day is about them and the rest of our Veterans.