It dawned on me today while painting our kitchen chairs with the same paint I used for a table in Jaxon's room that I never blogged his room photos (actually I never finished blogging his belly book photos either but his book should be here tomorrow in print so I'll take photos of the book instead). I took these last month while we were hanging out in his room trying to get him used to his crib for whenever I decide to move him into his room at night.
Here he is just hanging out in his Pittie onesie I made him, the pillows and the blue monster I made for him as well oh and his quilt in the corner :)



I'm a huge DIY junkie, I've always been, when I was younger I wanted a platform bed so I went to lowes and got the materials to make myself one, not a perfect one but one none the least. His name letters I found on etsy and Urban Outfitters, the guitar I made from a tutorial online (I can't seem to find it right now) the chalkboard piggy bank I got the idea from Lil Blue Boo, one of my favorite pieces you can't see very well because it was on but it's this awesome paper t-rex lamp! I love it!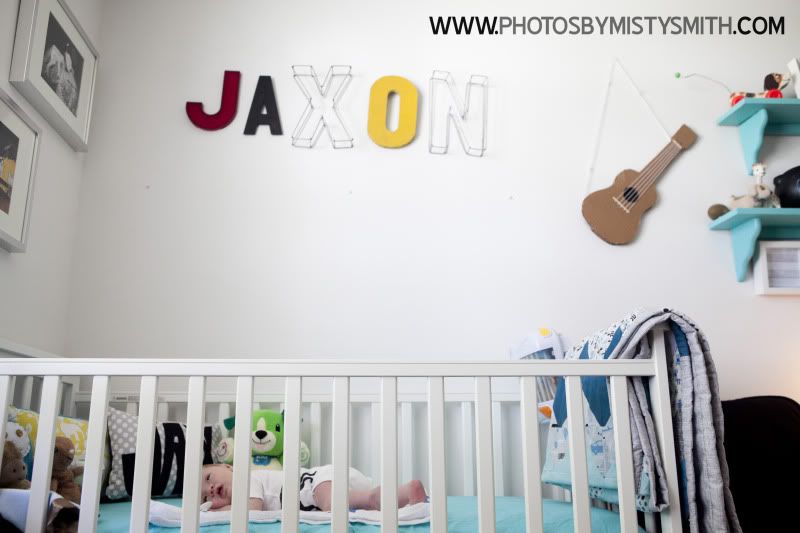 I put some toys in his room for Keeley to play with as well when we're all hanging out. Keeley also did the scribble art piece on the far right for Jaxon. Also I love the You're Getting Sleepy print by sycamore street press. When I did his room I wanted something that could grow with him and little things be changed to fit him as he grew. Notice his monthly photo car and board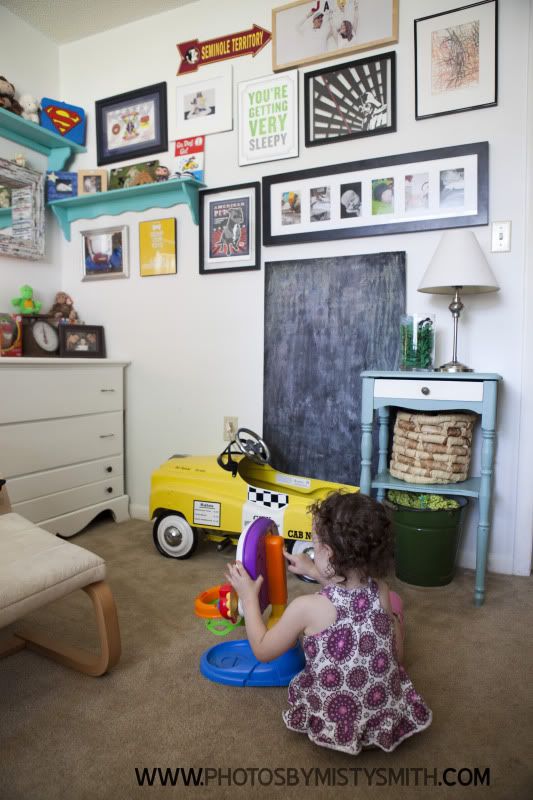 His room is also storage for a lot of my photo props, notice the scale on his dresser and the buckets under the table, their full of hats and such. The Darth Vader print is actually scrapbook paper. I have some of our maternity photos by Kathleen Amelia up as well. The white dresser was my granny's it was originally a wood stain but I painted it while. It needs to be redone since I rushed painting it before really reading about the correct way to do it, Liz Marie Blog has a good instructional on it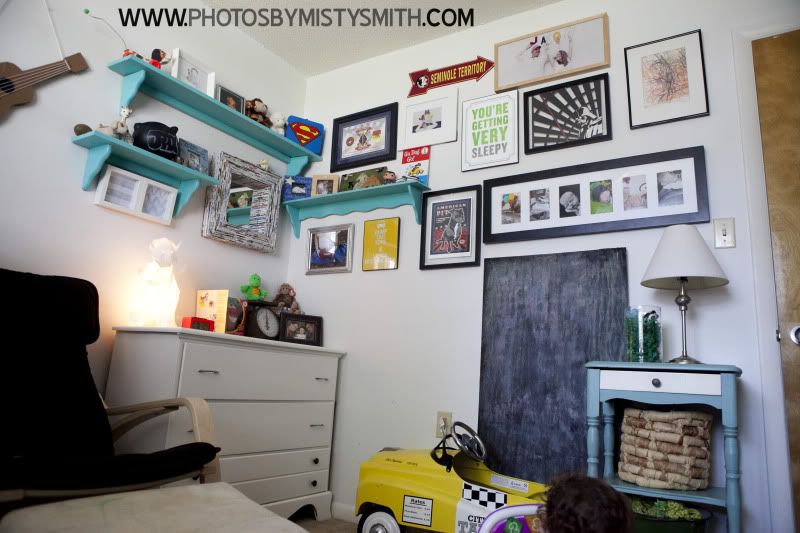 Hi Jax!



I'm not the biggest fan of the bookcase, it doesn't match but we had it and needed the space but I didn't have time to paint it so here it is. The frame I found at a thrift shop and painted it, strung some wire across it and made it an art/hat/tie hanger



I hate curtains so I made this fabric bunting for him instead. The table I found at a swap meet thing years ago when Drew and I first got married, it was white when I bought it, I painted it black then had the pain in the butt task of stripping it when I was prego this time around to paint it this blue to match the other table in his room. The table has a glass inset so you can place things under that I love, right now it's some scrap material I had laying around. The toy giraffe was another thrift find of mine. The Fisher Price barn hold his baby lotion and power and such :)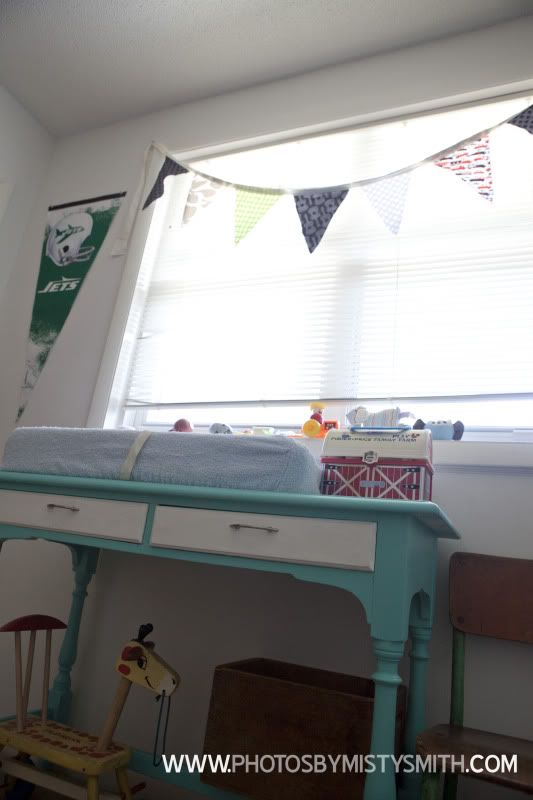 And I had to hang some more of my favorite newborn photos of him in his room :) These are 8x10 prints in 11x14 frames



His room is probably one of my favorites in the house. Keeley's room since she's become mobile (and a monkey) isn't as dressed up as it used to be but she's a toddler it doesn't need to be, although I have big dreams for it whenever we move and have our own place :)